Getting free Valorant Points (VP) is just a dream? Follow this tutorial!
Valorant Points are an important element in the FPS game made by Riot Games, Valorant in every way. Especially if you want to shop for in-game items such as weapons, agents and other elements.
Technically, the way to earn Valorant Points is by making purchases. Whether it's in the game to outside the game with certain methods. Usually, many people provide Valorant Points (VP) selling services with various nominal values.
---
---
Hunting for new weapon skins and other items is certainly important for you as Valorant players. Especially with a collection of certain skins, your popularity can increase rapidly later among players.
But have you heard that there is an opportunity to get Valorant Points (VP) for free? It's not a scam or anything like that, but an official feature from Riot Games itself, as a Game Developer.
Curious about how? Check out the following reviews.
---
Steps to get free Valorant Points
Step 1: Enter your Valorant account
Make sure your Valorant account is entered correctly before making a request (ticket).
Step 2: Enter a ticket request via Valorant Support Page and select "Purchases & In-game Content" or "General"
Fill in all the information in the ticket according to what is needed. We recommend that you add "Valorant Points (VP) in the subject section to make it easier for a player rep to help out.
In addition, we selected "I need help with something else" as needed and "Weapon Skin" as the content option
Step 3: Request a task for free Valorant Points and wait for further replies
You can request assignments to get free Valorant Points, or please enter your perfected artwork (weapon skin images) into it and wait for further replies regarding the free VP you requested.
Here we decided to draw Valorant GO! Vol.1 Ghost skin as best it can be.
Step 4: Enter your work and give it to Riot Games
Previously, if you chose to do a certain task, you could wait for the representative to contact you again, then submit your work.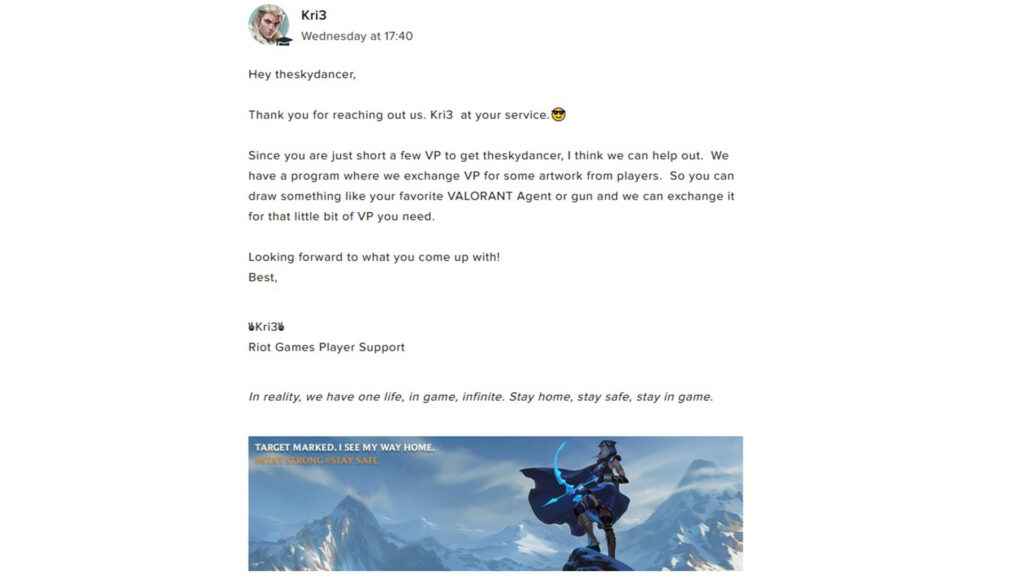 It can be in the form of pictures or audio recordings, if you really try to imitate certain Valorant agents.
Step 5: Wait for your free Valorant Points to arrive from Riot Games
After some time considering your work, Riot Games will immediately give VP to your Valorant account. Immediately check if you get a response from them. Remember, you can do this only once.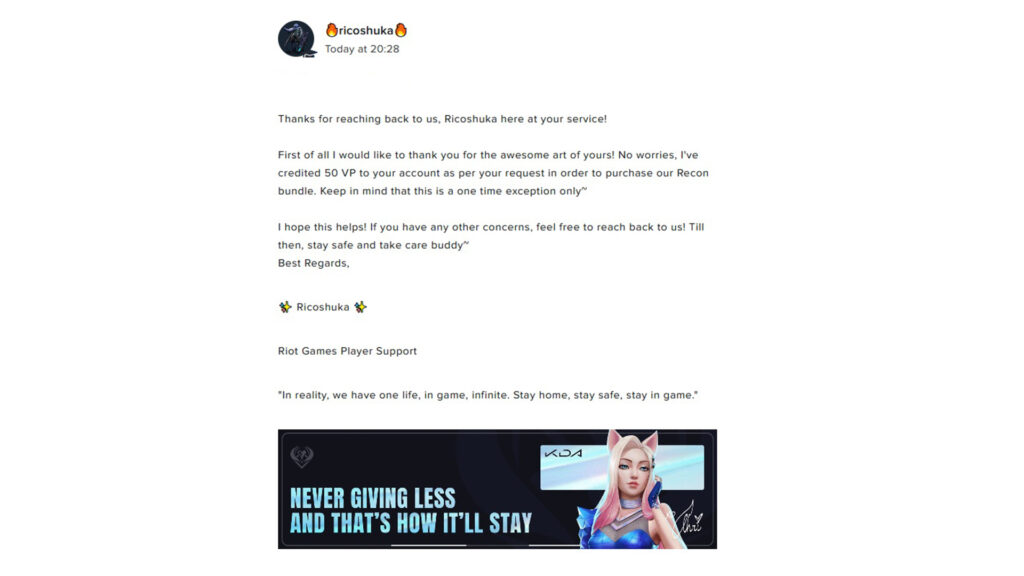 The amount of these free Valorant Points varies, depending on how Riot Games evaluates your hard work. So, if you want to get a lot of results, give your best effort as much as possible.
This program is aimed at every Valorant player who lacks Valorant Points to buy skins, bundles, player cards, gun buddies, sprays, agents or Battle Pass.
Follow the official account ONE Esports in Facebook, Instagram And TikTok to get the latest esports news, match results, transfer gossip and other daily updates.
READ ALSO: VCT 2023 Pacific: Schedule, Results and How to watch