Many heroes have been changed by Moonton to present the Chinese MLBB server.
China is one of the biggest game markets in the world. This makes Moonton really present the China MLBB server so that gamers can enjoy it there, as well as for the sake of growing esports, one of the popular mobile MOBAs.
In order to realize the hope of presenting this MLBB China server, Moonton has done many things. One of them is changing the appearance of several heroes, including their profile picture in the game.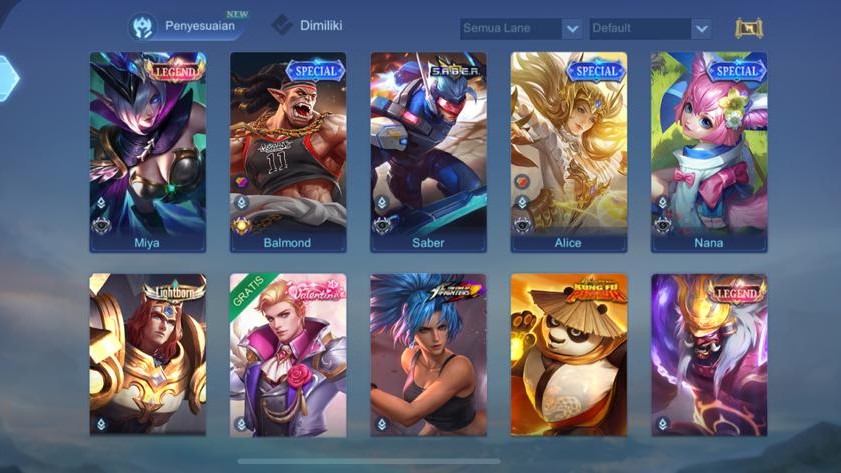 This is done so that MLBB can be circulated for gamers to play in China. This has become a condition for all games to be accepted into their country, even though these games are actually made by their own nation's children.
Of course, this regulation was made on the basis of protecting the public, especially gamers, who will later play the game so that they are not exposed to negative things that are contrary to Chinese norms and culture.
Then, what are the negative things indicated by the Chinese authorities in the MLBB game, especially those that are displayed from existing heroes and must be changed to meet the requirements? Here's the review.
---
---
For the sake of presenting the China MLBB server, Moonton revamped 24 heroes
Of the total 118 heroes that were already in the Land of Dawn at the time this script was written, there are at least 24 heroes that have been revamped by Moonton for the China MLBB server.
Of the 24 heroes that have been revamped, it seems that there are several things that are the basis for change. There are at least four elements that must be corrected so that this game can be accepted in China.
These four elements are indications of vulgarity, liquor, shades of red, and the sinister appearance of some of the heroes involved.
In terms of scary appearance, there are several elements that are part of it. These are scary faces, tattoos, and scars. Here are the details of some of the heroes that have been fixed:
Vulgar: Gord, Eudora, Kadita, Pharsa, Alice, Esmeralda, Miya, Freya, Karina, and Fanny
Shades of Red: Saber, Yin, Lolita and Valir
Liquor: Franco
Creepy Appearance:
a. Faces: Helcurt, Sun, X. Borg, Dyrroth, and Ruby
b. Tattoo: Lapu-Lapu
c. Scar: Balmond, Bane, and Moskov
Of the four elements, red is the most confusing to change. Based on Chinese culture, the color red symbolizes good fortune and happiness. Maybe because there is an element of "violence" in MOBA games because they knock each other out, this should not be symbolized as happiness.
If you see other heroes who are not included in the list above, it is likely that this number will continue to grow in the future. This is because there are still some heroes who feel they have one of the four elements above but have not been touched by change.
Follow the official account ONE Esports in Facebook, Instagram And TikTok to get the latest esports news, results, transfer gossip and other daily updates.
READ ALSO: The reason why Arlott MLBB will be OP in the latest META MLBB