MDL PH S1 will start this week. Who's the strongest?
The MDL PH S1 schedule has been released. Even though this is the MLBB second caste tournament, it is very interesting because it is the debut of MDL in the Philippines, the strongest country in Mobile Legends at the moment.
Seeing the development of the MLBB scene in PH, I'm not surprised that the MDL PH S1 is also something worth waiting for. Scene connoisseurs in Indonesia can now watch young talents in neighboring countries.
We can now witness what regeneration is like in a country that has won the M Series world three times, and have more resources for learning and self-development.
Filled with many new faces and teams outside of MPL who are also believed to be able to compete, such as Gamelab and ZOL Esports, what is the schedule for the MDL PH S1?
Participating team
Blacklist Academy
ECHO Proud
OMEGA NEOS
ONIC Arsenals
NXP EVOS Tiger Cubs
BREN Euphoria
TNC Neo
RSG Ignite
ZOL Esports
Gamelab
Format MDL PH S1
MDL PH S1 will start this week, February 15 2023 until March 30 2023. The matches will run with a Round Robin system with BO3, each team will certainly fight their hardest to advance to the playoffs.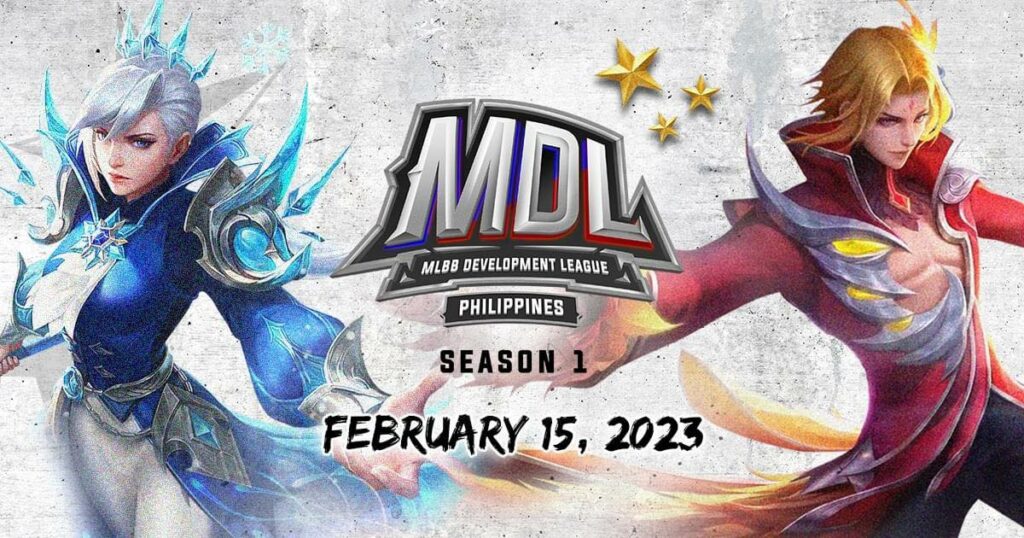 Regardless, it's still a question mark whether the MDL PH S1 follows the MDL ID with the global tire system, or hasn't made it happen yet.
---
---
How to watch
All of you can enjoy MDL PH S1 on Youtube MLBB Official and MPL PH. Not only on Youtube, on Facebook the MDL PH S1 schedule can be followed completely and regularly.
Schedule of MDL PH S1
The following is the complete MDL PH S1 schedule from week one to week six.
WEEK 1
Wednesday, 15 February 2023
| | | |
| --- | --- | --- |
| Team | Hours/Results | Team |
| RSG | 11.00 WIB | Gamelab |
| ONIC Arsenals | 13.00 WIB | NXPE Tiger Cubes |
| Bren Euphoria | 15.00 WIB | ZOL |
| OMEGA NEOS | 17.00 WIB | TNC Neo |
Thursday, 16 February 2023
| | | |
| --- | --- | --- |
| Team | Hours/Results | Team |
| Gamelab | 11.00 WIB | ONIC Arsenals |
| Blacklist Academy | 13.00 WIB | RSG |
| ZOL | 15.00 WIB | OMEGA NEOS |
| ECHO PROUD | 17.00 WIB | Bren Euphoria |
Friday, 17 February 2023
| | | |
| --- | --- | --- |
| Team | Hours/Results | Team |
| Blacklist Academy | 11.00 WIB | TNC Neo |
| NXPE Tiger Cubes | 13.00 WIB | ECHO Proud |
| Gamelab | 15.00 WIB | ZOL |
WEEK 2
Tuesday, 21 February 2023
| | | |
| --- | --- | --- |
| Team | Hours/Results | Team |
| ONIC Arsenals | 11.00 WIB | Blacklist Academy |
| NXPE Tiger Cubes | 13.00 WIB | Gamelab |
| OMEGA NEOS | 15.00 WIB | ECHO Proud |
| TNC Neo | 17.00 WIB | ZOL |
Wednesday, 22 February 2023
| | | |
| --- | --- | --- |
| Team | Hours/Results | Team |
| Blacklist Academy | 11.00 WIB | NXPE Tiger Cubes |
| RSG | 13.00 WIB | ONIC Arsenals |
| ECHO Proud | 15.00 WIB | TNC Neo |
| Bren Euphoria | 17.00 WIB | Omega NEOS |
Thursday, 23 February 2023
| | | |
| --- | --- | --- |
| Team | Hours/Results | Team |
| RSG | 11.00 WIB | ZOL |
| Gamelab | 13.00 WIB | Bren Euphoria |
| NXPE Tiger Cubes | 15.00 WIB | OMEGA NEOS |
WEEK 3
Tuesday, 28 February 2023
| | | |
| --- | --- | --- |
| Team | Hours/Results | Team |
| NXPE | 11.00 WIB | RSG |
| Gamelab | 13.00 WIB | Blacklist Academy |
| TNC Neo | 15.00 WIB | Bren Euphoria |
| ZOL | 17.00 WIB | ECHO Proud |
Wednesday, March 1, 2023
| | | |
| --- | --- | --- |
| Team | Hours/Results | Team |
| Gamelab | 11.00 WIB | RSG |
| NXPE | 13.00 WIB | ONIC Arsenals |
| ZOL | 15.00 WIB | Bren Euphoria |
| TNC Neo | 17.00 WIB | OMEGA NEOS |
Thursday, March 2, 2023
| | | |
| --- | --- | --- |
| Team | Hours/Results | Team |
| Blacklist Academy | 11.00 WIB | ECHO Proud |
| ONIC Arsenals | 13.00 WIB | OMEGA NEOS |
| RSG | 15.00 WIB | TNC Neo |
WEEK 4
Tuesday, March 7, 2023
| | | |
| --- | --- | --- |
| Team | Hours/Results | Team |
| ONIC Arsenals | 11.00 WIB | Gamelab |
| RSG | 13.00 WIB | Blacklist Academy |
| OMEGA NEOS | 15.00 WIB | ZOL |
| Bren Euphoria | 17.00 WIB | ECHO Proud |
Wednesday, March 8, 2023
| | | |
| --- | --- | --- |
| Team | Hours/Results | Team |
| Blacklist Academy | 11.00 WIB | ONIC Arsenals |
| Gamelab | 13.00 WIB | NXPE |
| ECHO Proud | 15.00 WIB | OMEGA NEOS |
| ZOL | 17.00 WIB | TNC Neo |
Thursday, March 9, 2023
| | | |
| --- | --- | --- |
| Team | Hours/Results | Team |
| RSG | 11.00 WIB | Bren Euphoria |
| NXPE | 13.00 WIB | TNC Neo |
| ONIC Arsenals | 15.00 WIB | ECHO Proud |
WEEK 5
Tuesday, March 14, 2023
| | | |
| --- | --- | --- |
| Team | Hours/Results | Team |
| NXPE | 11.00 WIB | Blacklist Academy |
| ONIC Arsenals | 13.00 WIB | RSG |
| TNC Neo | 15.00 WIB | ECHO Proud |
| OMEGA NEOS | 17.00 WIB | Bren Euphoria |
Wednesday, March 15, 2023
| | | |
| --- | --- | --- |
| Team | Hours/Results | Team |
| RSG | 11.00 WIB | NXPE |
| Blacklist Academy | 13.00 WIB | Gamelab |
| Bren Euphoria | 15.00 WIB | TNC Neo |
| ECHO Proud | 17.00 WIB | ZOL |
Thursday, March 16, 2023
| | | |
| --- | --- | --- |
| Team | Hours/Results | Team |
| Gamelab | 11.00 WIB | OMEGA NEOS |
| ONIC Arsenals | 13.00 WIB | ZOL |
| Blacklist Academy | 15.00 WIB | Bren Euphoria |
WEEK 6
Tuesday, March 28, 2023
| | | |
| --- | --- | --- |
| Team | Hours/Results | Team |
| Blacklist Academy | 11.00 WIB | OMEGA NEOS |
| NXPE | 13.00 WIB | Bren Euphoria |
| RSG | 15.00 WIB | ECHO Proud |
Wednesday, March 29, 2023
| | | |
| --- | --- | --- |
| Team | Hours/Results | Team |
| NXPE | 11.00 WIB | ZOL |
| ONIC Arsenals | 13.00 WIB | Bren Euphoria |
| Gamelab | 15.00 WIB | TNC Neo |
Thursday, March 30, 2023
| | | |
| --- | --- | --- |
| Team | Hours/Results | Team |
| Blacklist Academy | 11.00 WIB | ZOL |
| RSG | 13.00 WIB | OMEGA NEOS |
| Gamelab | 15.00 WIB | ECHO Proud |
| ONIC Arsenals | 17.00 WIB | TNC Neo |
READ ALSO: MDL ID S7 schedule, results and how to watch