Alter Ego Celeste is looking for new players for 2023.
One of Indonesia's well-known female Valorant teams, Alter Ego Celeste, seems to be coming with a different roster from 2022.
The success of Alter Ego Celeste as one of the female Valorant teams in the Southeast Asia (SEA) region cannot be denied, making the team led by Nabila "NabbskySulthana as the "Queen" of SEA (ruler of the SEA region).
Compared to some of its competitors, say BREN Esports, Team SMG, ZOL Esports to X10 Sapphire (ex) throughout Southeast Asia, they are still far superior with a myriad of achievements.
Unfortunately, an anticlimax occurred when Alter Ego Celeste underwent VCT Game Changers Elite some time ago. VCT Game Changers Elite is a very prestigious qualifier for female Valorant teams to compete in the VCT Game Changers Championship.
---
---
The VCT Game Changers Championship competition is a world-class competition held in Berlin with G2 Gozen coming out as the champion. X10 Sapphire from Thailand succeeded in becoming the representative for the Southeast Asia (SEA) region after beating Celeste.
As a result, when they failed to shine in the VCT GC Elite, the future of the roster was questioned. Until now, the issue of division still haunts Alter Ego Celeste.
So, with the various dramas going on within the Celeste team, what is the future for their roster for 2023? Is there any change?
---
Looking for new players, Alter Ego Celeste has released Enerii?
Surprising news came from Nabbsky as IGL Celeste, where a few days ago he shared info on recruiting new players.
In his team's preparation for VCT Game Changers 2023, Nabbsky mentioned that Celeste may have 'split' from Odella "EnergyAbraham. He only mentioned that Celeste only left himself, Ayumii, Eisberg and Alluka.
"Hi guys! We are looking for players to join our team in order to compete in VCT GC 2023. Roster Ayumii, Nabbsky, Eisberg, Alluka," Nabbsky wrote.
He then wrote down some of the conditions needed, such as:
1. Willing to move/live in Indonesia
2. Full time player
3. Sentinels/Smokers
4. Immortal 3 and have tournament experience
5. Age 16 years or older
6. Fluent in English.
It is still not known what the purpose of Nabbsky's writing was. However, if it is true that they are looking for new players, of course Celeste will provide clarity about the fate of Enerii's career in the team as soon as possible.
Previously, their coach Danial "RedKohHakim has also announced his separation from the team following the loss in the VCT GC APAC Elite tournament. The presence and departure of RedKoh were not officially announced by the team management.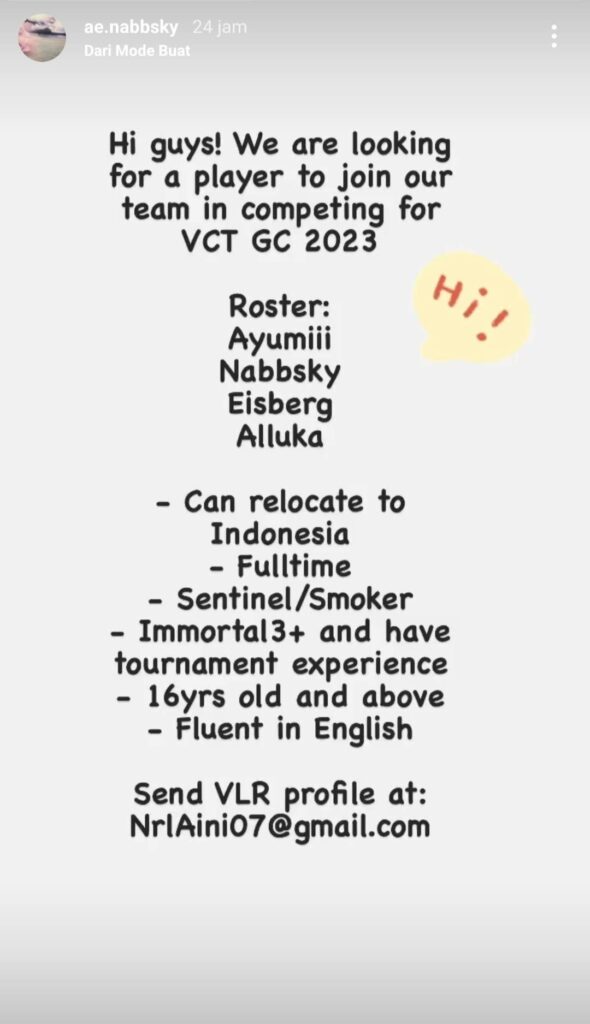 If it is true that Enerii will split from Alter Ego Celeste, then it is certain that only Eisberg will be left from the team's original roster since it was first formed.
With the explanation above, here is the Alter Ego Celeste roster:
1. Nabila "NabbskySultana
2. Nurul "AyumiAini
3. July "EisbergKusuma
4. Tiaras"AllukaPlenary
5. TBD
READ ALSO: VCT Challengers Indonesia Split 1: Schedule, match results and how to watch