Enjoy the latest Free Fire update with lots of fun stuff!
Starting 2023, Garena is here with lots of announcements and updates with the latest Free Fire Update which brings several adjustments and new features.
So far, the existence of Free Fire has been very widespread in various circles of society. Starting from a young age, to adults, everyone plays this favorite battle royale game. Various innovations are absolutely necessary so that players don't get bored easily.
Apart from making weapon adjustments, Garena always brings new features to the game Free Fire. Starting from adding or changing modes, to adding features in the game such as compounds to other elements.
---
---
Of course, these changes were made with the hope that the players would be more challenged and feel the excitement of playing Free Fire. Being different from other battle royale games is one of Garena's important visions for all users throughout Indonesia.
Are you curious about what's new at the beginning of 2023? Check out the following review of the latest Free Fire Update.
---
Latest Free Fire update in early 2023
The OB38 patch, which is available starting January 11, 2023, is something that Free Fire presents for this new year. Starting from customizing weapons to updated features and modes to pamper beloved users.
Here are the latest Free Fire updates:
Battle Royale Even More Exciting!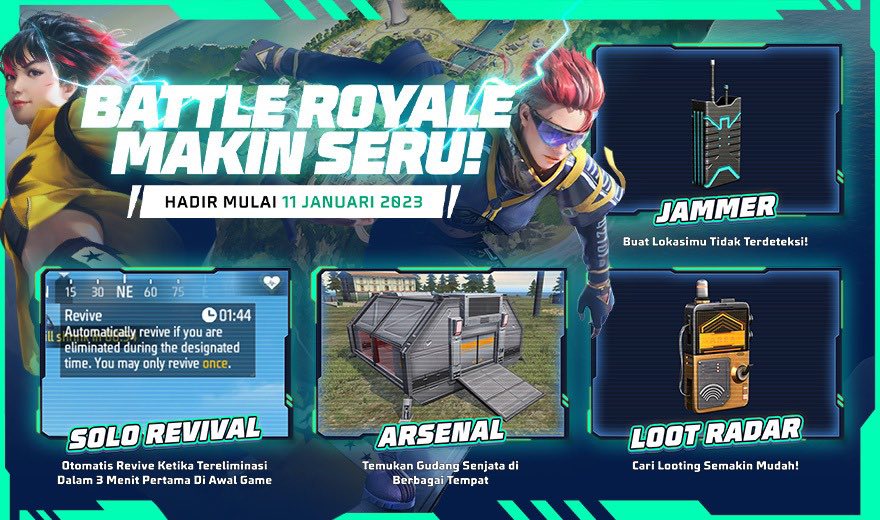 For Battle Royale, it will certainly be even more exciting with the presence of several items that players can use in the game, as follows:
1. Arsenal: Arsenal is an arsenal that provides many weapons and items such as Gloo Walls to Medkits that you can use in the game. The concept is almost the same as the War Chest to the Aircraft System.
However, you can do looting more comfortably and protected. So make sure you can find Arsenal in every corner of the arena.
2. Revival Solo: Apart from the feature of playing with friends (Squad) for Solo Free Fire mode, now players can do a revival (return to the game). Any player (solo) who is eliminated within the first 3 minutes, can return to the game.
3. Jammers: Jammer is an item that is presented to prevent players from being hit by detection tools or skills such as Tracing Steps (Clu), Memory Mist (Ohto), Dinoculars (Avron) and UAV.
Jammer can be obtained via Airdrop. So, make sure your location is not detected by enemies in the battle arena with this item, Survivors.
4. Loot Radar: Have you ever felt annoyed because you didn't get a high tier item? Relax, Loot Radar is the solution. With Loot Radar you can find out the location of high tier items within 75m every 25 seconds.
Loot Radar can be used manually by players and later the position of high tier items will be shown on the minimap in the form of pins (like Shiba's skills).
---
Latest Free Fire Update: Weapon buff & nerf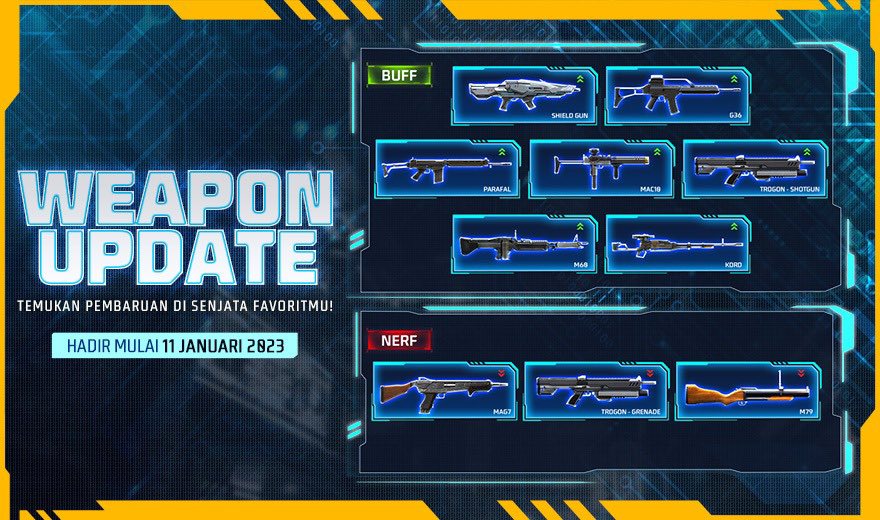 For some Free Fire weapons, you will get a buff/nerf with the following notes:
1. Shield Gun: Damage +10%, HP shield +6%, shield recovery speed +15%.
2. G36: Range +10%.
3. Paraphrases: Rate of Fire +10%, accuracy +10%, magazine reduced from 30 to 18 bullets.
4. AUG: Rate of Fire +10%, minimum damage -10%, armor penetration +10%.
5. MAC10: Damage +5%, minimum damage +10%, maximum damage +5%.
6. Trogon: Rate of Fire +12%, accuracy +10%.
7. M60: Rate of Fire +5%, accuracy +10%, rate of fire squats (MG Mode) +15%.
8. M79: Reload Speed ​​+15%.
9. M79 will have special bullets different from the grenade launcher/RG50
---
Latest Free Fire update: Weapon Glory Leaderboard
The Weapon Glory Leaderboard will show specific stats for players with certain weapons in the game. Later, the better the statistics of players with these weapons, will get a special and limited title (for the top 100).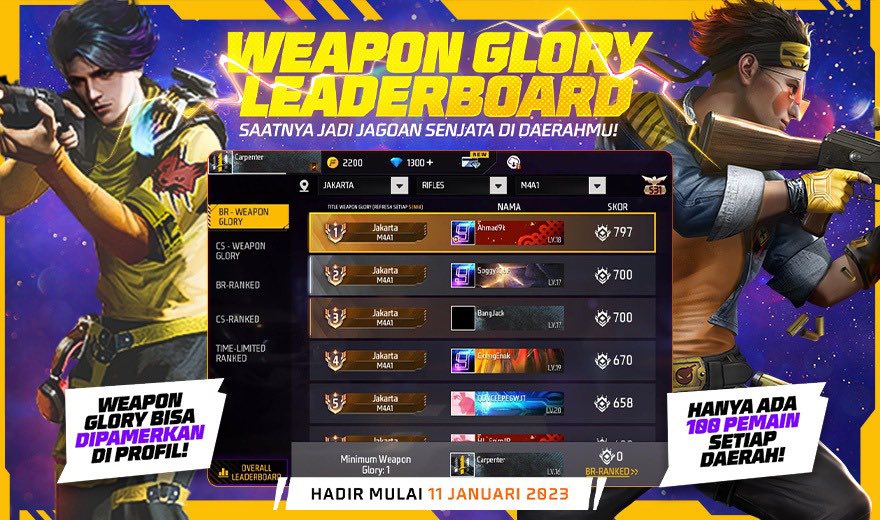 There are several provisions that need to be considered as follows:
1. Separate leaderboard for BR and CS mode.
2. Turn on the "location" feature in the app to set the region
3. Weapon Glory breakdown: The scoring mode will take into account the base score, ranked match performance and a coefficient.
4. When entering the leaderboard page, the scoring model will calculate the base score into weapon mastery.
5. The weapon stats of each ranked match will be converted into ranked match performance points.
6. Top 100 players will be displayed on the leaderboard and given the title Weapon Glory which will always be updated.
So, those are some important notes regarding the latest Free Fire update in early 2023. Come on, update and log into Free Fire, feel the difference and the excitement.
READ ALSO: AURA Esports disbands the Free Fire division