The end of a difficult journey for AURA Esports' Free Fire division.
The dissolution of the Free Fire AURA Esports division is still a hot topic of discussion among the Free Fire community in Indonesia. One of the quite iconic teams decided not to extend their existence in the competitive scene.
Three years running, AURA has graced the competitive scene with various well-known and legendary rosters in Indonesia. Most of them even have a large fanbase despite being separated from the team for some time.
Achievement after achievement, of course, they have collected. But unfortunately, the major title to the dream of representing Indonesia on the world stage has not been achieved.
The news of this disbandment is of course still a shock to several parties, especially the true fans of AURA Esports, namely AURA Fam. Not only AURA Fam, the Indonesian Free Fire community also voiced their disappointment regarding this.
---
---
Various players and coaches who last defended AURA Esports thanked the management through their respective social media accounts.
This separation is a tough decision taken by the management. Both from the Head of Esports level to representing the CEO spoke up.
---
AURA Esports management apologizes to all fans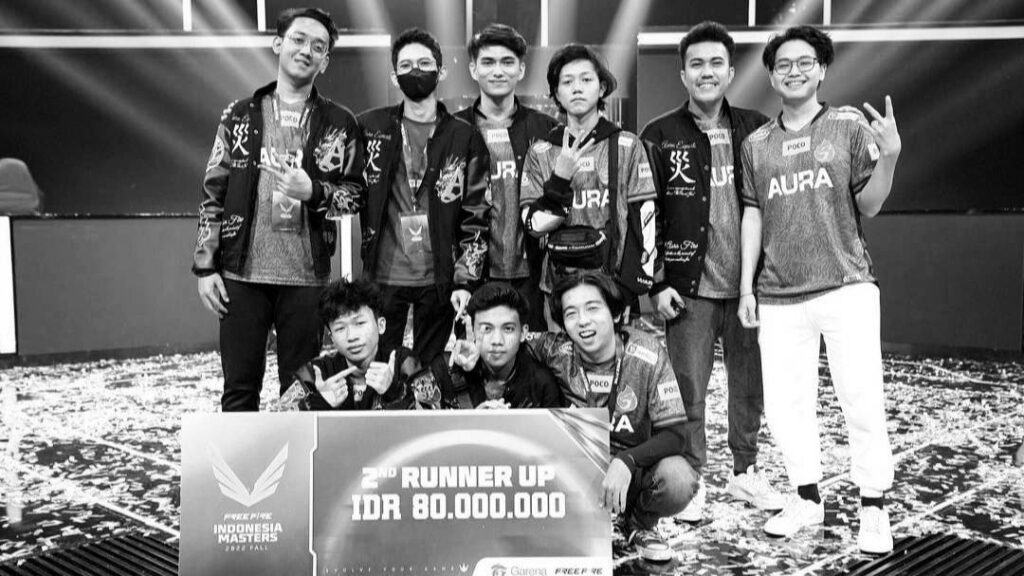 A few hours after the announcement of the disbandment of the AURA Esports Free Fire division, Friday (6/1), Head of Esports AURA, Reza Pahlevi spoke up.
According to Reza, disbanding the Free Fire division was a decision that was quite heavy and went through a long process and was a consideration from various aspects. He then apologized to the AURA Esports fans who had supported him all this time.
"This (disbandment) is (the) toughest decision we have ever made. It took a very long time and process to arrive at this decision. We have seen and thought about various aspects and sides. On behalf of AURA, I apologize profusely for the decision that was unpleasant and perhaps never imagined by all of you," wrote Reza.
He also expressed his gratitude to AURA Fam and all those who always support the journey of the Free Fire division from time to time.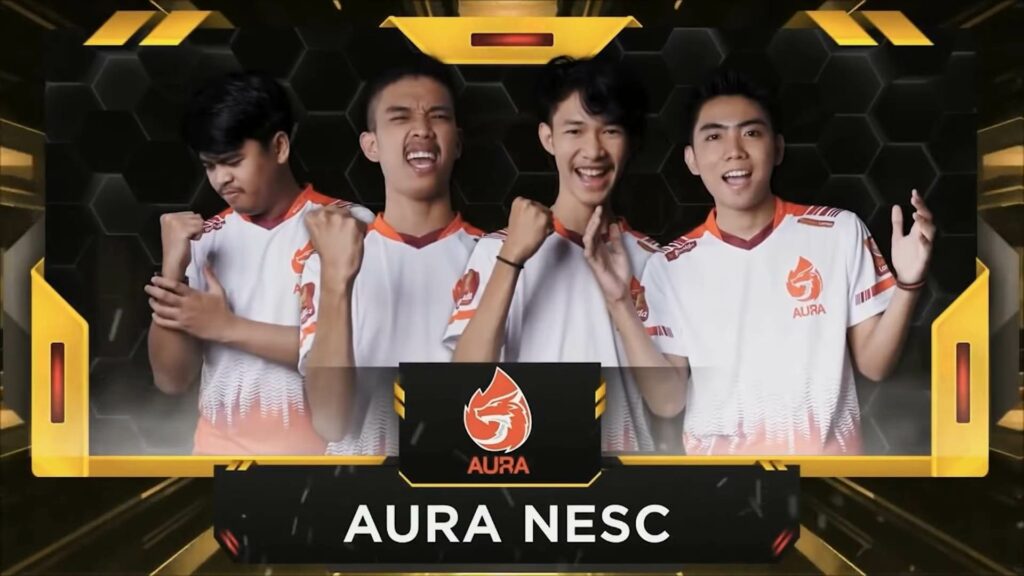 "We express our gratitude to all parties in the Free Fire scene who have become living witnesses of AURA's development to date. We also wish the best for all players, coaches and managers who have defended AURA Free Fire," he continued.
Representing the CEO, Daniel Santoso or who is often called Dansan also apologized to all AURA Fam and the Indonesian Free Fire community.
Daniel also understands how the fans feel who from time to time support AURA, but once again he emphasized that the decision to disband was quite a burden for him.
"We are really enjoying the good times that the AURA Free Fire community has spent and being able to compete at the highest level, and we are very grateful for the support we have received. This is not an easy decision, and we hope that you can understand and understand that this is a decision that has carefully considered all available options and aspects," wrote Dansan.
---
AURA continues to open opportunities to return to the Indonesian Free Fire scene
Regardless of the severity of the decision taken by AURA at this time by disbanding the Free Fire division which has existed for several years, Pahlevi ended his remarks by saying that the possibility/opportunity for AURA to return to the scene remains open.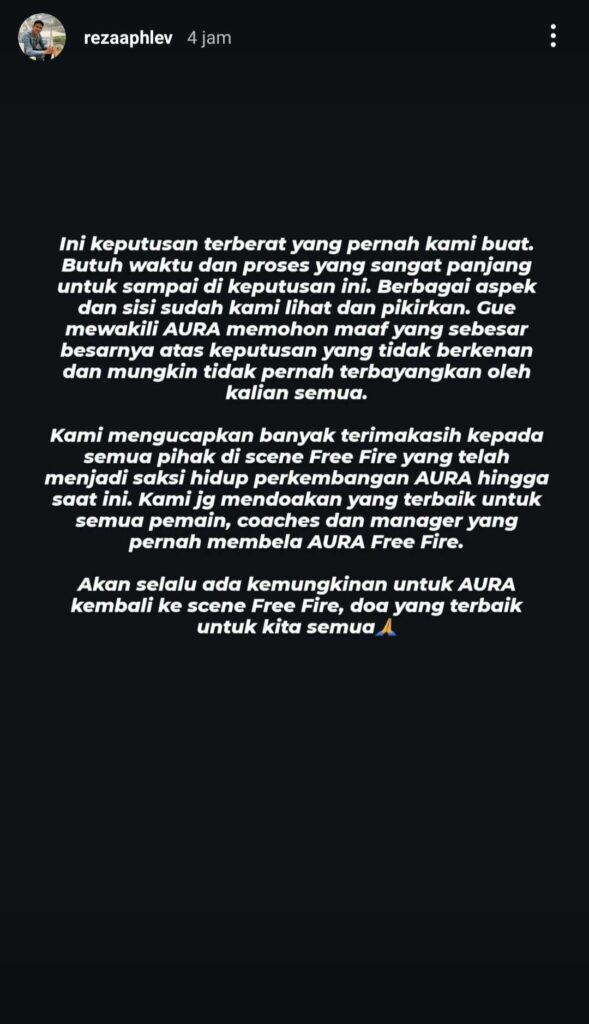 "There will always be a possibility for AURA to return to the Free Fire scene. Best wishes for all of us," he concluded.
Dansan also expressed the same thing regarding what was conveyed by Pahlevi where AURA Esports might still return at another time.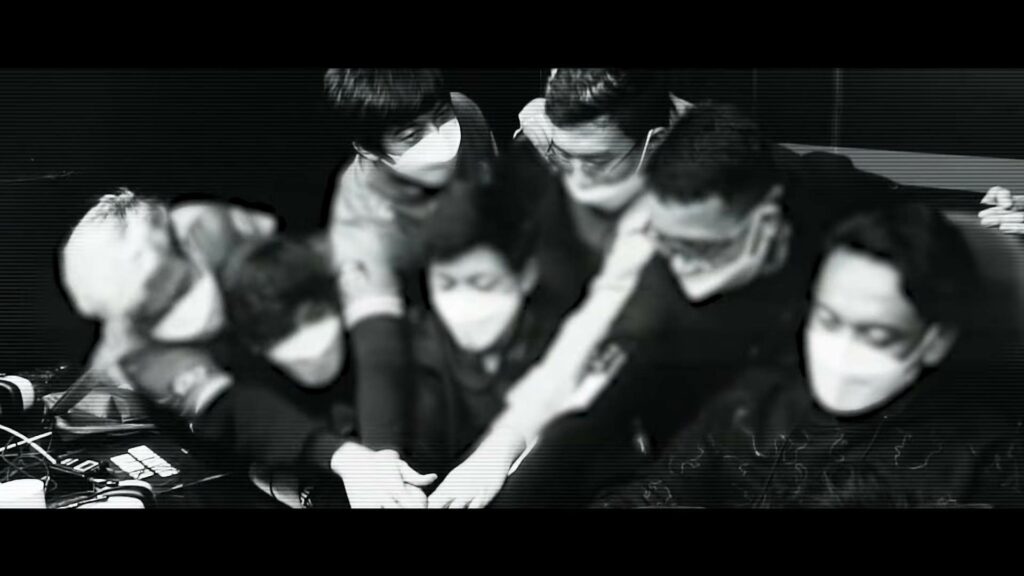 "The toughest decision in 2023. Thank you all #AURAFAM who support us at Free Fire. Who knows? Maybe we will come back one day, "concluded Dansan.
Good luck further, AURA, the struggles and memories you give will always burn like the fire of the Dragon's spirit.
READ ALSO: Booyah Pass Free Fire: Price details and profit items